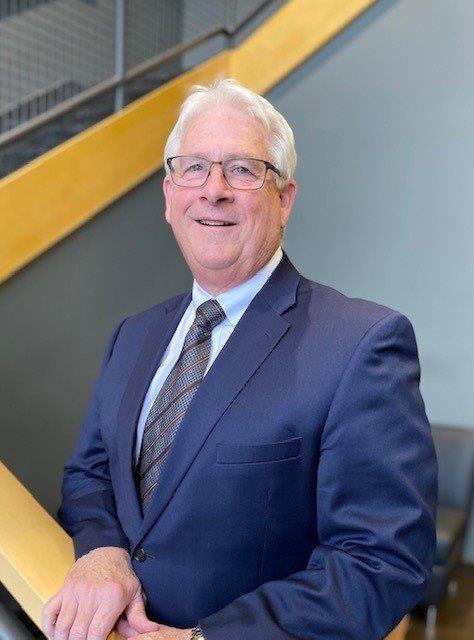 It was the early 1980s, and Ermil Adamson was aboard a motorhome, traveling across Michigan with a group of former colleagues for a series of regional meetings.
There in the kitchen galley, he was speaking with the Vice President of Marketing when another colleague reached around him to grab something out of the cabinet. Out swung the door, hard and straight into Adamson's face— an accident that would result in four stitches to his eyebrow.  
"The next day, I had to give a speech in front of a group of agents and the eye had swollen and was turning black and blue," Adamson recalled with a laugh. "I opened up my speech by saying, 'Insurance is not for the meek- it's tough!'"
Adamson will retire as President of Michigan Insurance Company (MIC), a Donegal Insurance Group company, on January 7th, capping a 46-year career in the insurance industry, including the past 25 at MIC, which he co-founded in 1996.
'A true partner'
A native of southern Illinois, close to the state border with Kentucky – "If I get real tired, my southern accent comes out," Adamson noted – he's made Michigan his home since his college years at Central Michigan University. Since beginning his career in underwriting, he's witnessed great change in the industry, from the shift to automation, to the growing reliance on data, and decentralization. What's remained constant, however, is "the strong service provided in both underwriting and in claims," he said. "When people are injured, are hurt, when they've lost something, the company is here to step in and help solidify that situation."
An integral force in the founding and growth of Michigan Insurance Company, Adamson cites its purchase by Donegal® in 2010 as one of his proudest career moments.
"That was fortuitous. It worked out extremely well for Michigan Insurance Company and its employee base," he said. "Donegal has been a true partner in every sense of the word, and I speak with pride when I talk about the organization and the people within it." He praised his Michigan team members, whom he said stayed true to the company and worked hard through the transition, as well as the agents who maintained their books of business with MIC to help the company through difficult years.  
'A front row seat to leadership'
MIC Regional Vice President Melissa Veenstra called Adamson's leadership "instrumental" in moving the company forward.
"From the beginning of Michigan Insurance Company and since becoming our President in 2010," Veenstra said, "through his vision and passion for the industry, he has guided the MIC team in achieving growth and excellent business results."
With 19 years under her belt at MIC and Donegal, Veenstra will lead Michigan Insurance Company into the future following Adamson's retirement. As Regional Vice President, she'll continue to oversee the general operations of the Michigan office and staff, and remain focused on implementing the strategy and goals for Michigan Insurance Company.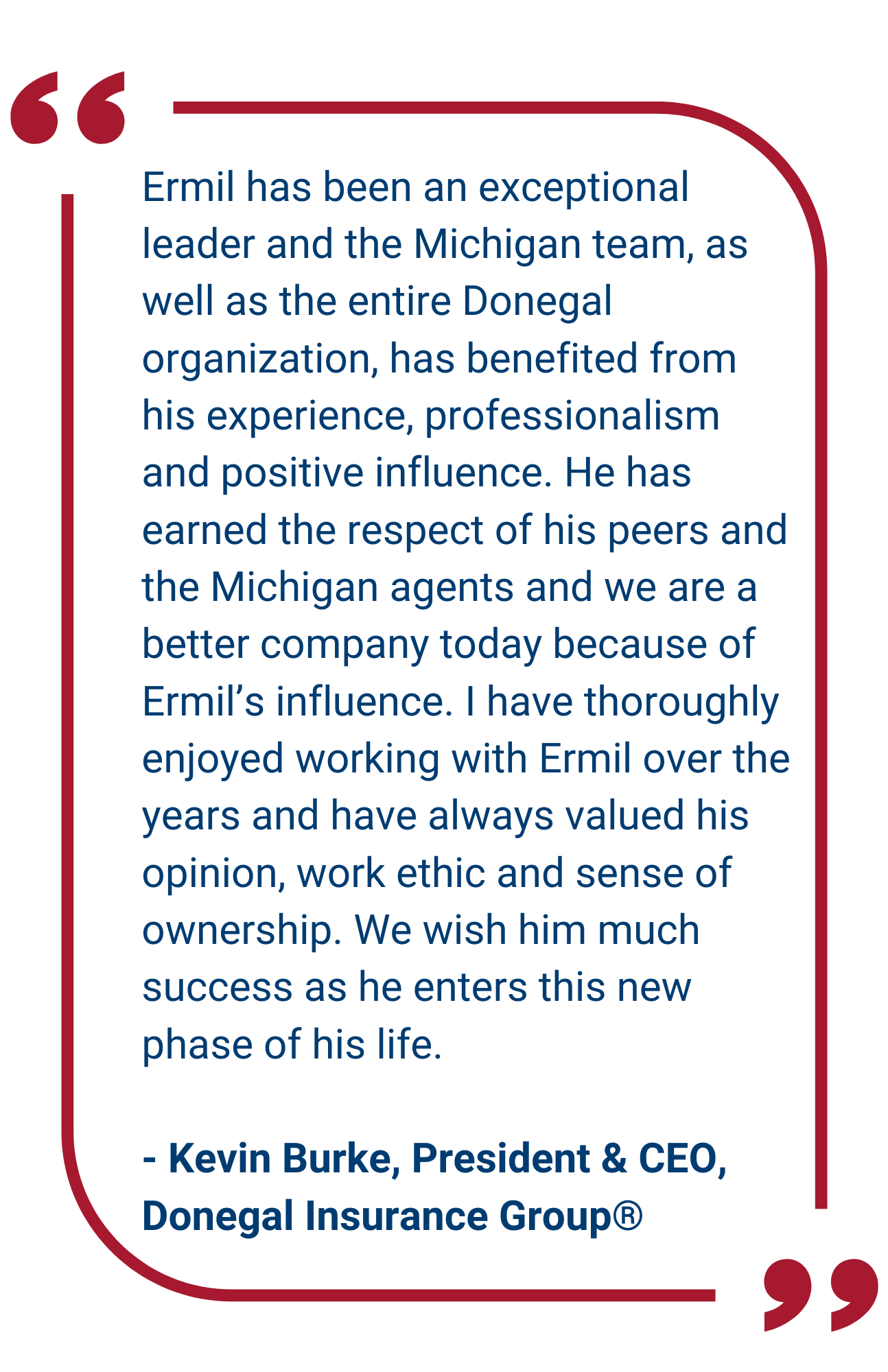 The industry is in good hands, the company is in great hands," Adamson said. "And it's time for newer, younger, fresher, ideas."
A father of two and grandfather to three, Adamson is looking forward to spending more time in retirement with his wife of 47-years, Linda. "We have plans to go to Florida and to travel," he said. "And Linda, though she was born and raised in Michigan, she hasn't really seen the state. So, my promise to her was, 'Let me show you the state you live in.'"
MIC Commercial Lines Underwriting Manager Ryan U'Ren called Adamson's footprint immeasurable.
"I have had a front row seat to see what true leadership and loyalty look like," U'Ren said. "Through changes in our company over the years, Ermil was the one constant. The person that kept us focused and moving forward. The importance he placed on relationships and service, leading by his own example, set the culture for our company."
…