Employee Spotlight – Keith Eisenhart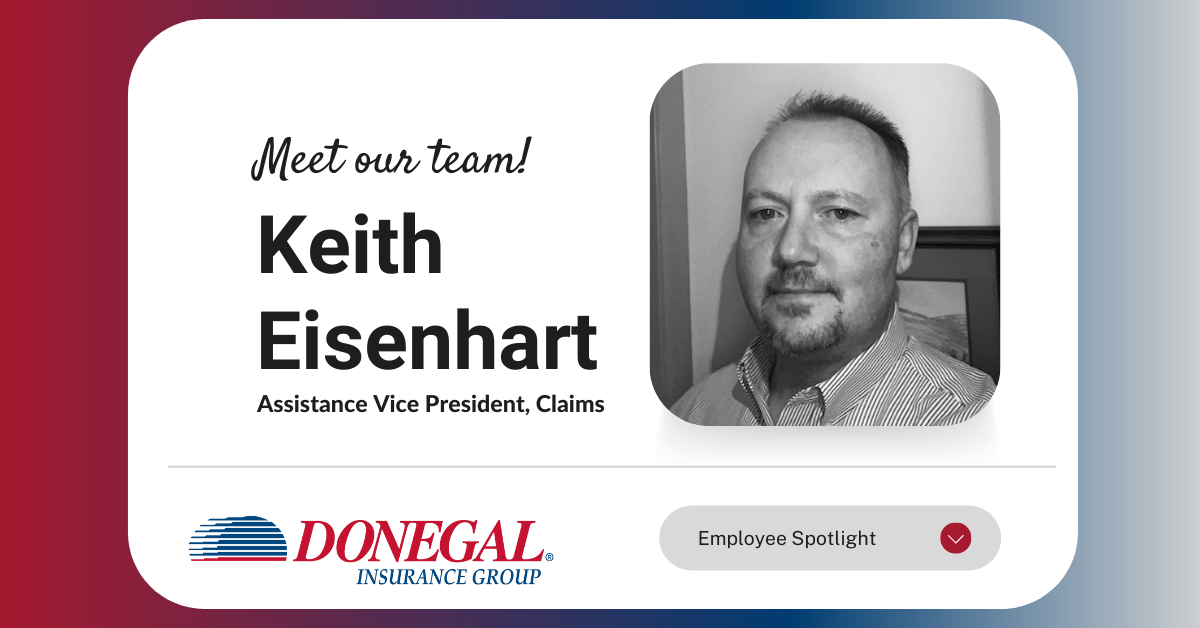 A 22 year Donegal veteran based in our Marietta, Pa. Home office, Keith's early beginnings as a Casualty Claim Representative provided him with the foundation and understanding to handle the claims of today, and those of the future.
Over the past two decades, he's worked on the Bodily Injury Claims team, and handled Uninsured/Underinsured Motorist Claims, before being promoted to Claim Supervisor in 2004, and then tapped to lead the newly-formed Claims Automation Services Team in 2013, where he remains today.
We asked Keith a few questions to help you get to know him better:
My favorite part of my job is…
The best part of my role is that I get to work with an amazing team of professionals. I value the fact that the work we do facilitates our claim professionals by helping them to serve our policyholders and others impacted by claims. When our customers have a claim, it is an impactful moment in their lives and our team of claim professionals is there to make sure that we are there for them when it matters most. Being able to see the technology we've implemented facilitate that process is very rewarding.
How technology affects my work and everyday life… Technology has transformed every aspect of our lives. In looking back at when I began my career in 1999, paper claim files were the norm. We maintained claim diaries in handheld calendar books, and 15 or 20 of us shared a single fax machine, which we used to assign appraisers for vehicle inspections. There were no WebServices, Analytic Models, API's or external integrations to worry about. Data was fragmented, hard to analyze and communication could be slow and clunky. However, one important piece of the puzzle has not changed, and that is how critical the relationship with our agent partners, our customers and the community remains.

The challenge we face today is the overwhelming amount of information available to us and making sure that all of this new technology does not detract from those relationships, but rather enhances them so that we can continue to be there when it matters most.  
On the weekends, you can find me… At a sporting event! My wife, Jennifer, and I have three amazing children: Evan, Erik and Emma, who are all involved in athletics. We are big fans of the Juniata College basketball team, where my son Evan plays, and you might also find us at a soccer pitch on any given weekend. I also love to golf and to spend time by the pool or at the beach with family and friends.
Ask me about… Leadership. I have really tried to focus on developing my leadership skills over the last several years, and on being a servant leader. By that I mean, I try to focus on supporting my team, which does an amazing job of making progress and making "it" happen daily. I try to provide as much value as I can to the company, and I thoroughly enjoy the coaching aspect of my position. There is nothing better than seeing those people you work with closely have success and achieve their individual and team goals. My role is to assist them and I try to remind myself of that daily.
The best career advice I've learned is:
First, I received some valuable advice very early in my career when I asked how I could differentiate myself from others in the industry and I was directed to look into continuing education opportunities. That advice led me to take up the AIC, CPCU and AIM coursework, which facilitated advancement within the organization. Simply put, be a lifelong learner.
Second, I've learned that it's much more rewarding to see team success versus individual success.  I'm competitive and there have been times in my career where I've let that competitiveness get in the way of the success of the group. My advice to young professionals entering the business world is to advocate for yourself, and to create daily habits that allow you to succeed, but don't let those individual goals and objectives get in the way of, or slow the movement, of the team. When the team wins, we all win
Last but not least, I would encourage everyone to get involved by volunteering in some way in your community. I was involved in coaching youth sports for over 15 years and I learned more lessons, developed life-long and meaningful relationships, and received more back from time spent volunteering than I could have ever imagined. The lessons learned and relationship building has translated well to my career.
"I will also add one more piece of advice that I just received recently: Be confident but have humility."
Thanks for all that you do, Keith!