Employee Spotlight – "Donegal Dale" Shedd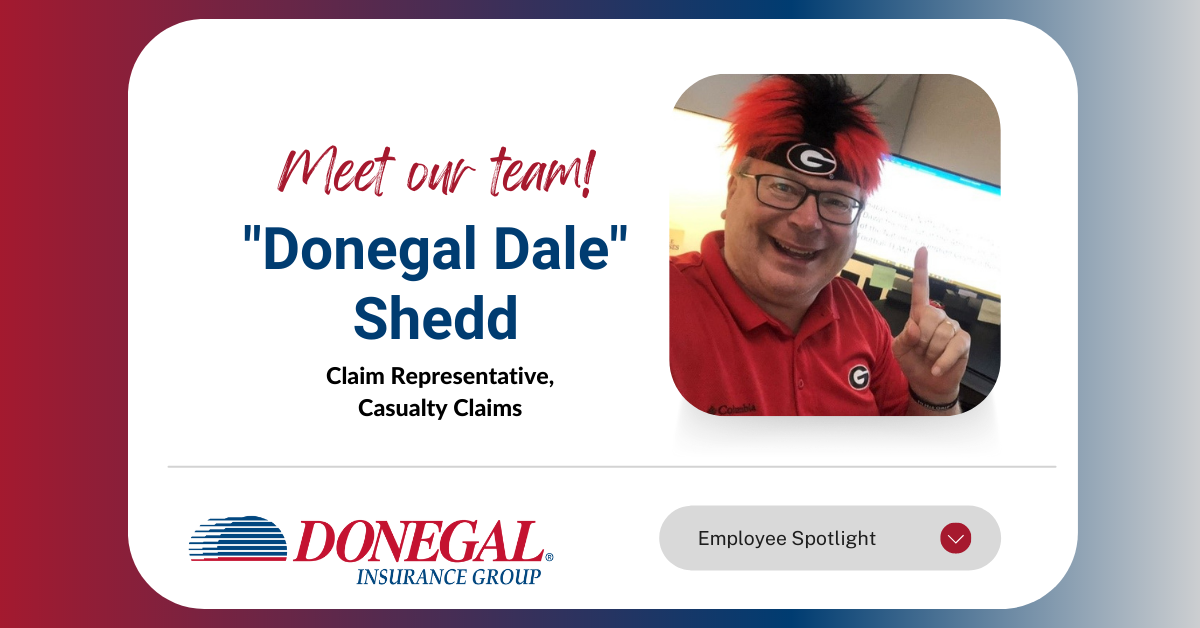 If you're lucky enough to be in our Southeast Region, chances are you know Donegal Dale – and he's made you smile!
That's why, this month, we're excited to put the spotlight on the heart of our Athens, GA office – the incomparable Dale Shedd, who brings nearly three decades worth of experience in assisting policyholders with their claims.
Dale was kind enough to share a little more about himself:
Years of service at Donegal: 
Almost three years. Prior to that, I worked in claims at a national carrier for 25 years.
What do you enjoy most about the work you do?
Helping people through unexpected and unplanned accidents. As a claim representative, it is my job to deliver the promise of our agents and company, which is to be "There when it matters most".  I, along with my co-workers, have the job satisfaction of making a positive difference for policyholders, and hopefully future policyholders, by our prompt, professional, and empathetic claim handling every day.
What is the best career lesson you have learned thus far?
Always continue learning how to effectively do your job. One way to do this is to learn knowledge and skills from experienced management and co-workers.
What is your favorite memory as a Donegal employee?


Walking into the Athens office on day one was such a blessing! I am so very grateful to work here. My favorite serious memory is seeing Donegal hire two of my best friends on the planet, who are incredibly smart, very experienced claim professionals, high character and quality individuals, from my prior employer. So thankful to continue to work with these guys, Lew Bagwell and Rob Colon.
Where can we find you on weekends?
On weekends, I participate in worship and activities with my church. I also attend and volunteer at sporting events ranging from youth sports to high school sports, my college golfer son's events, and the University of Georgia. I thoroughly love supporting my family and my friends' kids' athletics with my presence, passion and encouragement.
Why is the Southeast Region such a great place to be?
It is clearly the PEOPLE! I love working with/for all of them! The leadership here and from the Home Office has created a culture that breeds excellence. I see that the folks here have such wide and deep insurance knowledge, employees are empowered to do their jobs, excellent management direction, encouragement and appreciation is the norm, teamwork happens in such a positive manner. The Athens office is indeed a work family that genuinely cares about one another inside and outside the workplace. Oh, and the office is located in the shadows of the greatest university the country, THE University of Georgia! Go Dawgs!
Why is it so important to have fun with your job?


Our jobs can certainly be stressful at times. Laughter is great medicine. I think having fun at work makes for good work balance and greater productivity. I see having fun at work as a means by which to show your fellow employees you care about them as well.
Finally, what's the story behind your "Donegal Dale" Awards?
I believe one of my main strengths is being an encourager. A person encouraged is more likely to enjoy coming to work, doing their work and to pass on encouragement to others. At my prior employer, I was a self-appointed Morale Committee Chair. For several years, I did little shticks, awards and recognition for my co-workers' birthdays, promotions, weddings, anniversaries and retirements.

Now, here at Donegal, I try to continue my passion for encouragement with clever, personal and thoughtful recognitions. I have created "Donegal Dale" awards for teammates that go above and beyond work. Sometimes these awards come with "Donegal Dale Dollars", which are, of course, only redeemable at the pretend Donegal Dale store.
I did a birthday video for one co-worker, with a cameo from my daughter's life-size Justin Bieber cut out, to hopefully encourage him on his big day. I sent a recreated video of me breaking and falling out of my chair at my home desk, a video of my son giving me a mullet haircut, and other stuff during the Covid hibernation, to make my team smile. I have some other ideas floating around to use soon at the amazing Athens office!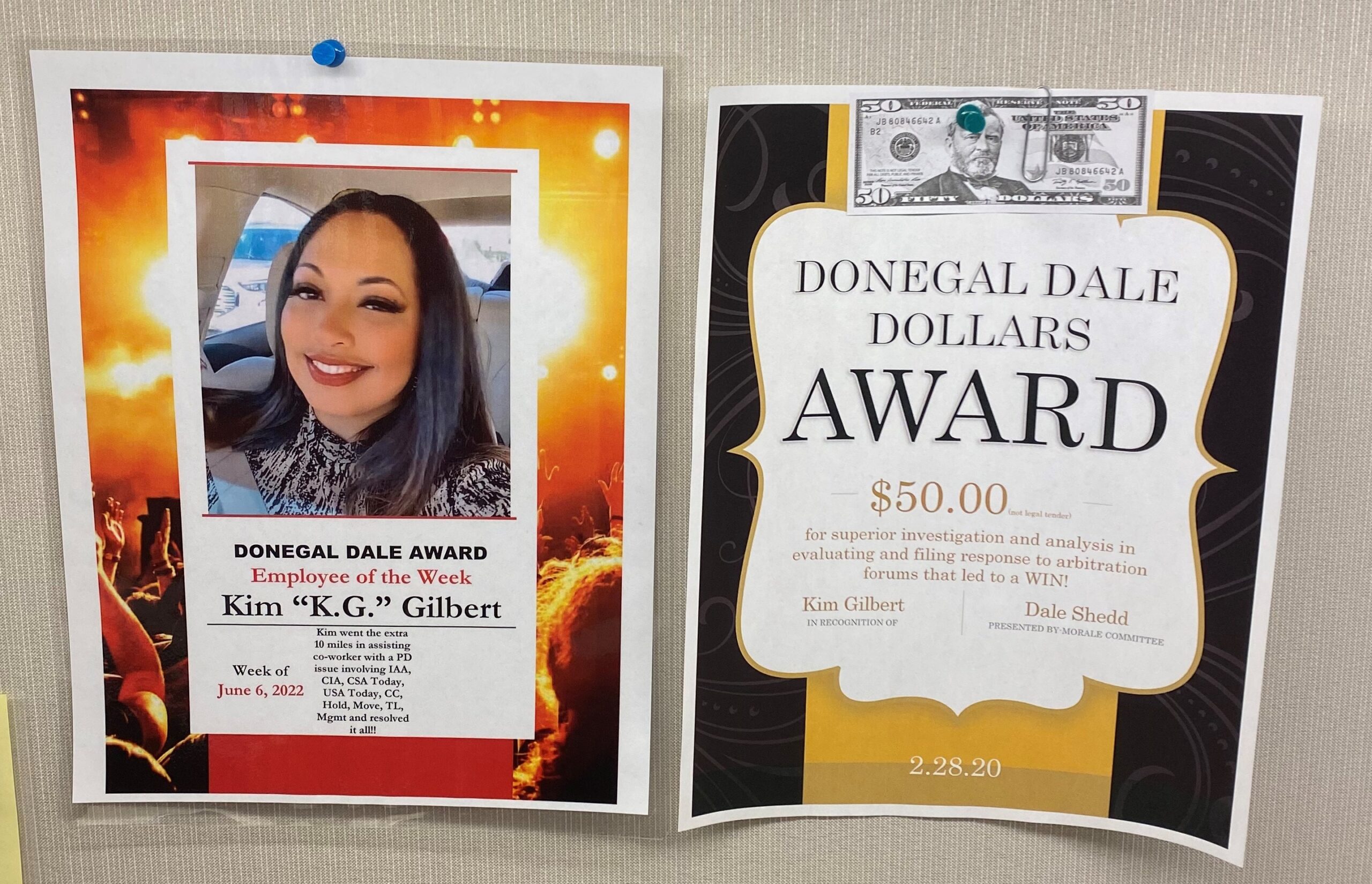 Thanks for all that you do, Donegal Dale!