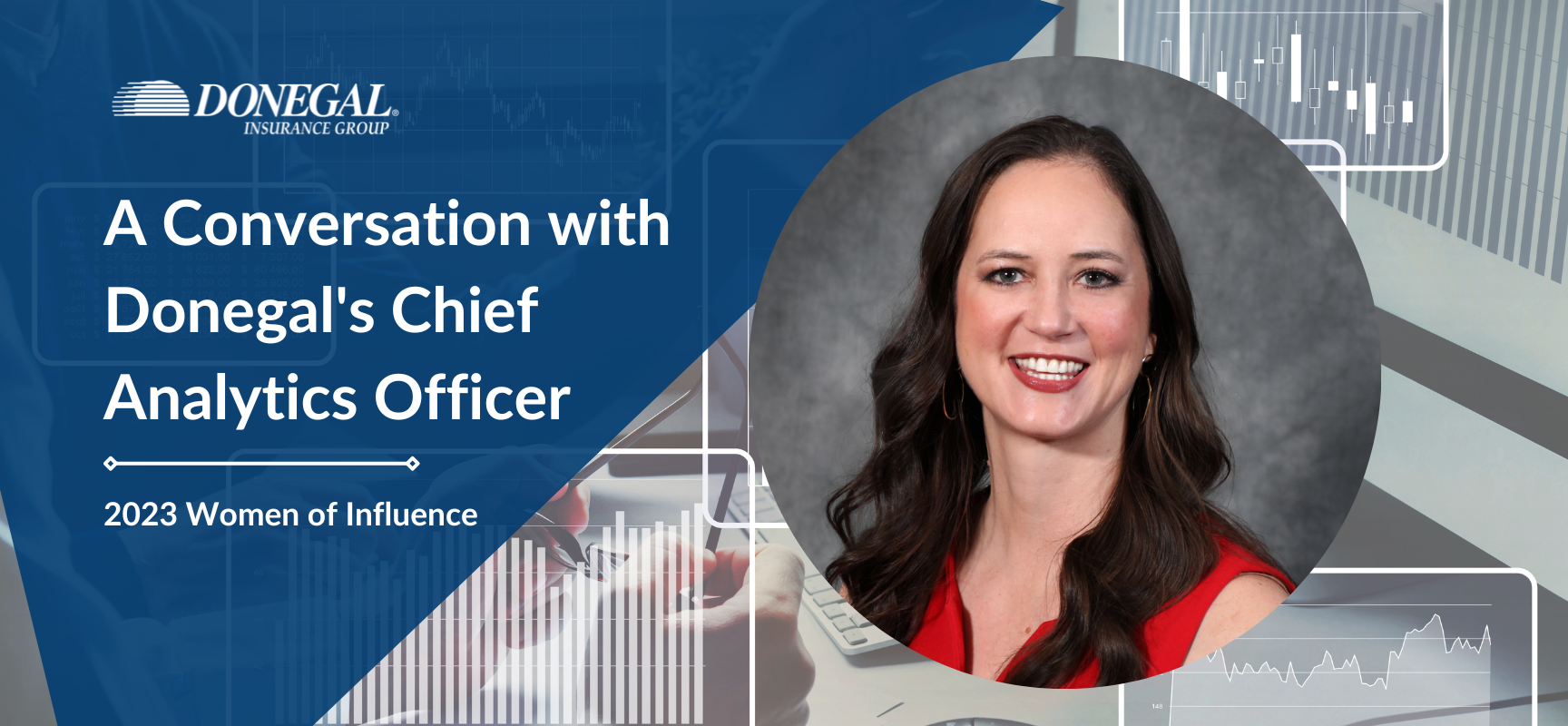 Written By Becca Gregg Sansom, Senior Corporate Communications Specialist   /   August 24, 2023
Earlier this summer, we announced that Central Penn Business Journal had selected our own Kristi Altshuler as one of its 2023 Women of Influence! You can read more in our July press release here.
Since joining the team in 2019 as Donegal's first-ever Chief Analytics Officer, Kristi has built the Company's Enterprise Analytics team from the ground up, creating a culture where data and analytics are embedded in strategy and decision-making at all levels.
Kristi and her fellow honorees were recently celebrated at the 2023 Women of Influence Event in Harrisburg.
Kristi never backs down from a challenge and is always thinking into the future in the spirit of continuous improvement," said Chrissy Hoffman, Donegal's Chief Risk Officer, and a 2022 Woman of Influence herself. "Her leadership, tenacity and technical skills translate into an extraordinary ability to inspire teams across all levels and departments in our company."
With a constant eye to the future, Kristi has spearheaded the creation of Donegal's Innovation Taskforce, and its annual state strategy planning process. When she's not driving Donegal's vision for utilizing data and analytics, Kristi is a valued mentor to women in the insurance industry, working in tandem with Hoffman to cultivate the next generation of leaders by driving Donegal's new Women in Leadership Initiative.
A Texas native and mom of two, Kristi knows what it's like to balance a growing career with a busy home life. We asked her a few questions about her experiences, and she was eager to share!
Looking at your own impressive career, what's made the biggest impact in propelling you to where you are today?
"I've had a lot of very supportive leaders that have really pointed out to me the things I would have never thought to otherwise pursue. Throughout my career, I've really appreciated leaders who have identified, 'Kristi, I think you're ready to take this next step.' I may not have thought I was ready, or even thought to consider the next step. I've also been very fortunate to have very strong women role models in leadership from my very first job as an actuary."
What advice would you have to other women in insurance – not only in growing their careers, but navigating that balance of their personal and professional lives?
"One thing to keep in mind is that it's always going to be a struggle, but it doesn't always have to be exactly the same. There were years when I had young children at home and my balance was much more towards my family life. Not that I took a pause in my career or stepped back… absolutely not. But I held steady for a couple of years – trying to always personally improve my performance in all of that, but keeping the balance weighed towards family. Now, as my kids have gotten older, I've shifted that balance again. Not that family isn't incredibly important to me, but I'm willing to spend that additional time and make some of those tradeoffs that I didn't want to before. It's all a personal decision. There's no right or wrong answer, and it can fluctuate throughout your career."
Would you like to share any additional thoughts?
"Be willing to take chances and try something that is challenging or outside of your comfort zone. You are just as capable – even more capable! – if you have a supportive management structure and a supportive work environment. And with that, I think it's important to stress how important it is to me and some of our other senior leaders to make sure women in our industry are given opportunities to be successful. It's very important to me to stay in tune with that and what it may mean, whether it's mentoring, training or development opportunities so that I can have an impact on the opportunities women have here at Donegal."