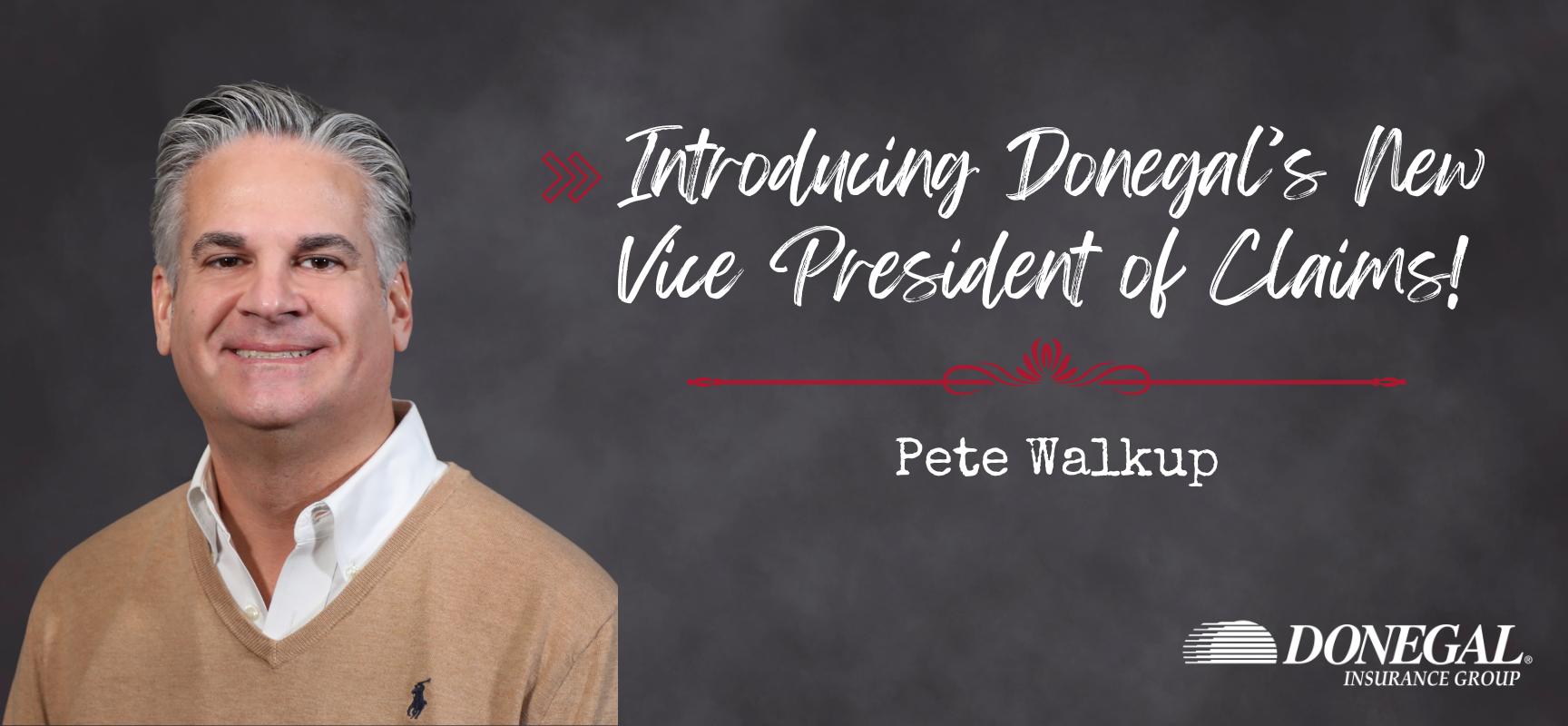 By Lisabeth Schuetz, Corporate Communications Coordinator
 Donegal® is pleased to announce that Pete Walkup has joined our team as the new Vice President of Claims Operations.
A proven leader with a strong background in Claims Technical and Operational Leadership, Pete earned his B.A. at Marshall University and holds the following insurance-related designations: Associate in Claims, Chartered Life Underwriter and Chartered Property and Casualty Underwriter.
Here at Donegal, Pete will play a key role in establishing and implementing efficiencies in our Claims processes. He will also work closely with our Automation team to implement new technology solutions to support our goal of continuous improvement.
Pete comes to us most recently from a specialty insurance carrier in Alabama, where he was charged with modernizing the claim operation and developing staff as Assistant Vice President of Claims. Prior to his time there, he spent more than two decades at a national carrier, as a Claims Handler, Team and Section Manager, Personal Lines Underwriting Section Manager and, finally, in the director-level role of Property and Casualty Claims Manager.
Learn more about Pete in our conversation below!
What drew you to Donegal and how has the transition been?
"I have spent over 25 years in the property/casualty space, including almost 22 years with a very large mutual company.  What drew me to Donegal was a very similar culture that included a deep appreciation for agency partnerships as well as an appetite for continuous renewal from a customer engagement perspective.  There are many resources here at Donegal that are in place to support our agency partners so that our great history of helping protect families and businesses continues to be told.  I've been impressed with how deeply we strive to create and maintain positive relationships and outcomes with our agency partners as we know how challenging the environment is for agents today.  I'm excited to be here and hope to continue all of the great momentum we have built here at Donegal!"
The VP of Claims Operations position is new to Donegal. What do you envision your role entailing?
"I envision this role being heavily involved in keeping data and information at the forefront of most of our decision-making in the claims department. Additionally, I expect to get involved in developing consistent processes in our claim handling practices in order to drive variance out of the customer experiences as well as reducing operating expenses. While each claim is different and should be handled on its own merits, working to improve consistency is a key in driving down expenses and reducing cycle times.   Last, I expect to be heavily engaged in reviewing and analyzing external supplier tools to modernize and enhance our already strong track record of sound claim handling practices and processes."
What is the best career lesson you have learned so far?
"The best career lesson I've learned so far is to try to always assume positive intentions in others and to try to walk in someone else's shoes before making any judgments. For example, at one point during my career, I was responsible for national roadside assistance (towing and labor) for the largest program in the country. When things went poorly for a customer, they had the ability to really go sideways. When our agency partners would share the poor experience feedback, I would have to be deliberate to listen and work hard to understand that they weren't attacking me but merely advocating for their loyal customer who they may have felt in danger of losing their business. In today's world, our products have been commoditized greatly and customers shop around more frequently today than ever before, so always trying to approach challenging claim outcomes from an agent perspective has been very helpful to me. In the end, working hard to develop the right sort of partnerships with the agency has many levels, but learning to assume their positive intentions as well as placing myself in their shoes has been one of my favorite career lessons so far!"
Enough business talk! On weekends, where can we find you? 
"For the next several months or so, you'll find me driving around central Pennsylvania taking in the scenic beauty and trying to make as many new friends as I can! I'll be relocating to the Lancaster area at the end of the current school year, but am spending a lot of time here over weekends as well. When I won't be in the area taking in the sights, food, and people, I'll try to spend some time down in the Birmingham, Alabama area, where I'm a current resident."
Ask Pete about…
"My daughters! I have three daughters (19, 16, and 12) and enjoy spending as much time with them as I can because it's not a cliché that our time with our children flies by! Other than spending time with our kids, my wife Angela and I really enjoy going out to dinner together as well as planning travel.  One of the things I've always wanted to do and haven't is tour New England during autumn and see the beautiful foliage and enjoy the great food in the region, too!  Last, I have two English Cream Golden Retrievers who I enjoy taking for long walks and training."