Meet Julie Leschke: Donegal Jefferson Award Winner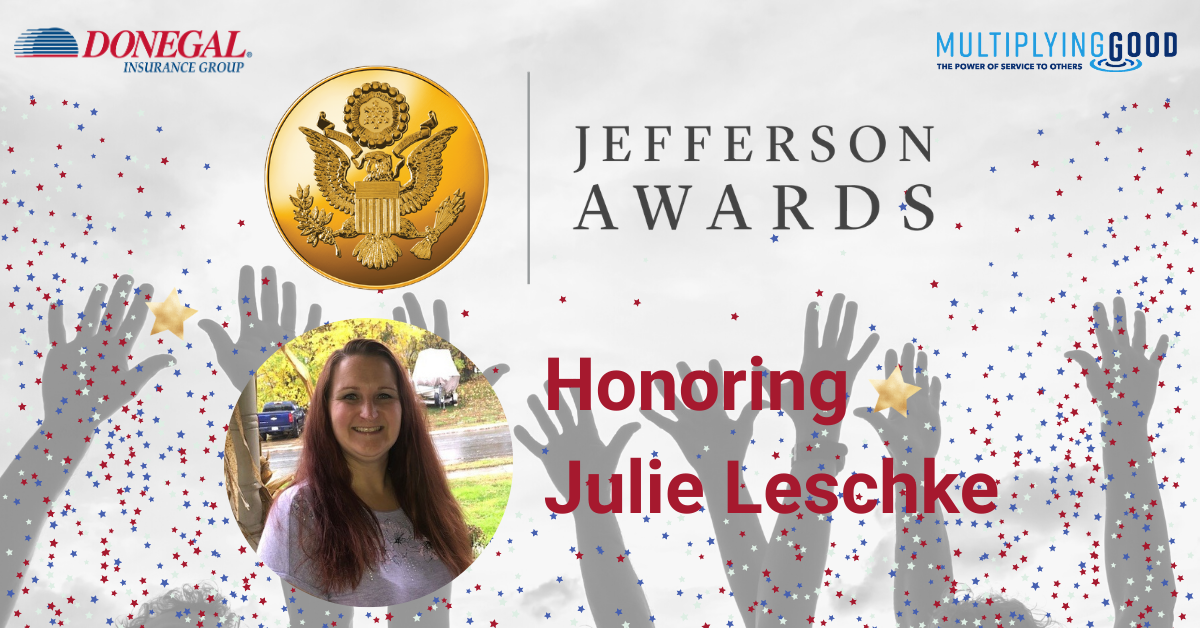 From building hiking trails in Vermont to coordinating summer camp activities for low-income families, renovating community park facilities and organizing events through Donegal's Fellowship Committee, Julie Leschke is a planner at heart.
By day, she works in accounts receivable in Donegal's Marietta, Pa. home office. Off the clock, however, the mom of three gives her time as the fundraiser and activity coordinator for the youth program at Zion United Methodist Church.
"Every year we go on mission trips throughout the U.S." Leschke said. "And we do work for people in our area who are less fortunate and need extra help."
Leschke and her crew have done mission trips to Arizona, Massachusetts, West Virginia and Ohio, just to name a few. Typically, they stay for a week, working on projects with summer camps or other nonprofit organizations. A spring mission trip down to Alabama earlier this year was cancelled due to COVID-19.
"We've worked at a nonprofit group camp, where we redid the bathrooms," Leschke said. "We've helped out at soup kitchens and have talked to veterans and visited homeless shelters." Of the latter, she added, "I just love hearing their stories. Not that these people made bad choices, but hearing their story of why they're in that situation, it really does touch your heart."
After all, Leschke knows what it's like to be up against a challenge. Then high school sweethearts, she and her now-husband became parents to their first son when Leschke, a 10th grader at the time, was just 15. "We had so many people helping us so that we could go to school and get a job," she recalled.
As teenagers, Leschke and her husband payed that support forward by serving as youth coordinators with the youth group at their former church. "We felt like we had made difficult decisions, but we could be a role model for what can happen, because a lot of teens get into these circumstances and it doesn't always work out," she said. "But becoming a parent very young really changed our lives in a good way as opposed to a bad way."
Colleague Kari Hoffman praised Leschke, whom she said "never puts herself first. Everyone else always comes first."
"In the accounting department, she makes it a point to make sure anyone going through something has help," Hoffman wrote in her nomination of Leschke for a Jefferson Award. "When I lost my father, she raised money and put together a beautiful gift basket. She handles all of the baby showers and bridal showers for the department."
Leschke admitted that she "likes to be busy." In years past, she's helped out with her son's scout packs, and has served on Donegal's Fellowship Committee for nearly 16 years.
"I just think she has built this amazing life," Hoffman said of her friend and colleague. "Beating all the odds at 15, she finished high school, went to college and started working at Donegal and has been here ever since. She helps everyone and is the most selfless person I know."
Do you have a co-worker who deserves to be honored? Nominations are open for Donegal's next round of Jefferson Award winners!
Donegal Insurance Group is proud to join
Multiplying Good
in honoring individuals making meaningful contributions to our community, and to sponsor CBS21's Jefferson Awards, which puts the spotlight on the unsung heroes in our everyday lives.
Through this partnership with Multiplying Good, Donegal is honoring a total of six team members with Jefferson Awards through early 2021 – one of whom will be selected to represent the company at the annual Jefferson Awards ceremony in Washington D.C. In addition to the winners announced above, three additional award recipients have yet to be chosen. To recognize our appreciation for each winner, Donegal will make a donation to the non-profit of their choice.
A digital program from the national Jefferson Awards event, including links to video clips from winners, can be viewed here.