Employee Spotlight – Vanessa Long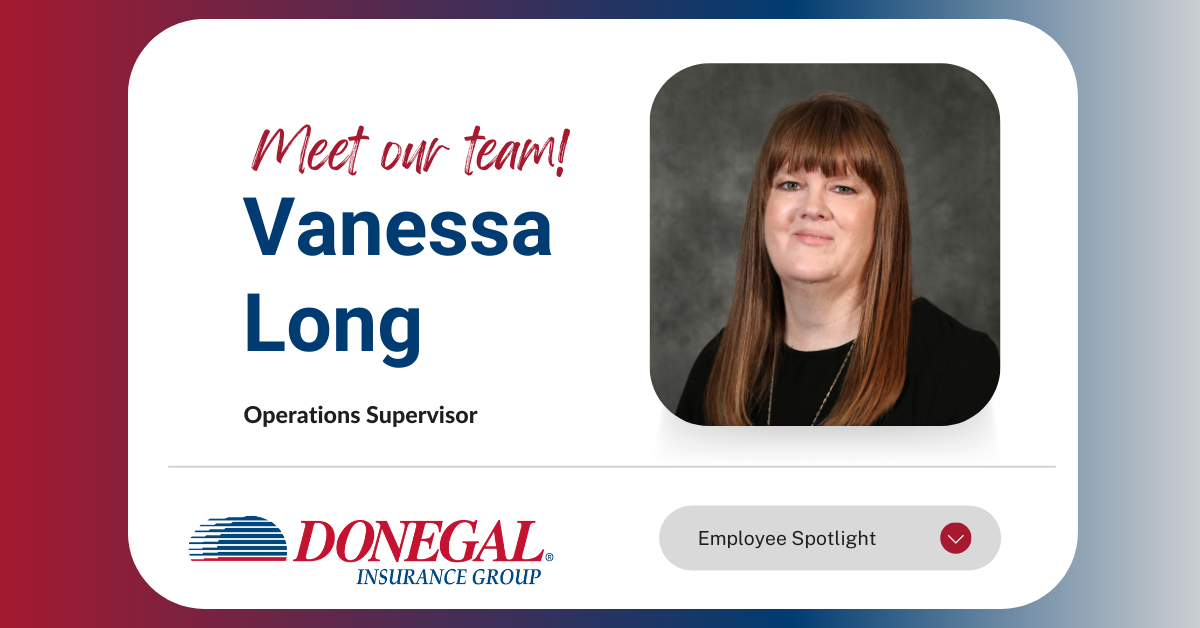 Donegal® celebrates Vanessa Long, our Operations Supervisor based in Donegal's Marietta, Pa. Home Office!
Vanessa supervises a team that prints and mails our companywide billing and policy documents, in addition to handling other mail and packages for the nearly 500 team members based in our Home Office.
We asked Vanessa a few questions to help you get to know her better:
Years of service with Donegal: 
10 years  
What do you love most about the work that you do?  
Through my position, my days are filled with a wide variety of work. I started this new position in April of 2022 and am

still constantly learning. I enjoy organizing schedules and projects. My team and I have deadlines to meet by certain times of the day and when the tasks are complete

, it's satisfying. Last, but not least, I enjoy working alongside my great team of coworkers and forming relationships with them.
Why is Central Pennsylvania such a great place to be?
The different seasons that Pennsylvania has to offer are beautiful, and I love having the opportunity to camp in our RV in different parts of the state. Antique shops, markets and roadside farm stands are other things I enjoy about Lancaster County. My family is also in this area, so that makes it the #1 reason that I love it here!
Where is your favorite place to travel?  
One of my favorite places to travel is to the Grand Canyon of Pennsylvania, in Wellsboro. The scenery from the viewing area is breathtaking and the hike down the canyon and seeing the waterfall is just as beautiful. The hike back up though is another story since there are so many steps! 
If you could have dinner with any famous person, past or present, who would you choose?
I would like to meet Blake Shelton – and Kate Middleton, Princess of Wales. 
Ask me about: 
The time I got to meet country singers Maddie and Tae!
What's a quote that inspires you? 
My favorite quote is from my daughter, when she was 12 years old. She was running on the school Cross Country team at the time, and she would say to her teammates, "You got this!" Ever since then, my family says it all the time. 
What Vanessa's colleagues are saying:

"Vanessa does a great job of balancing priorities and coaching her team. She remains calm under pressure and maintains high service standards for both internal and external customers." 
"Vanessa is a joy to work with. She makes everyone on our team feel valued. Her authentic, 'hands-on' leadership has created a great workplace atmosphere."

Thanks for all that you do, Vanessa!