Employee Spotlight – Karen Miller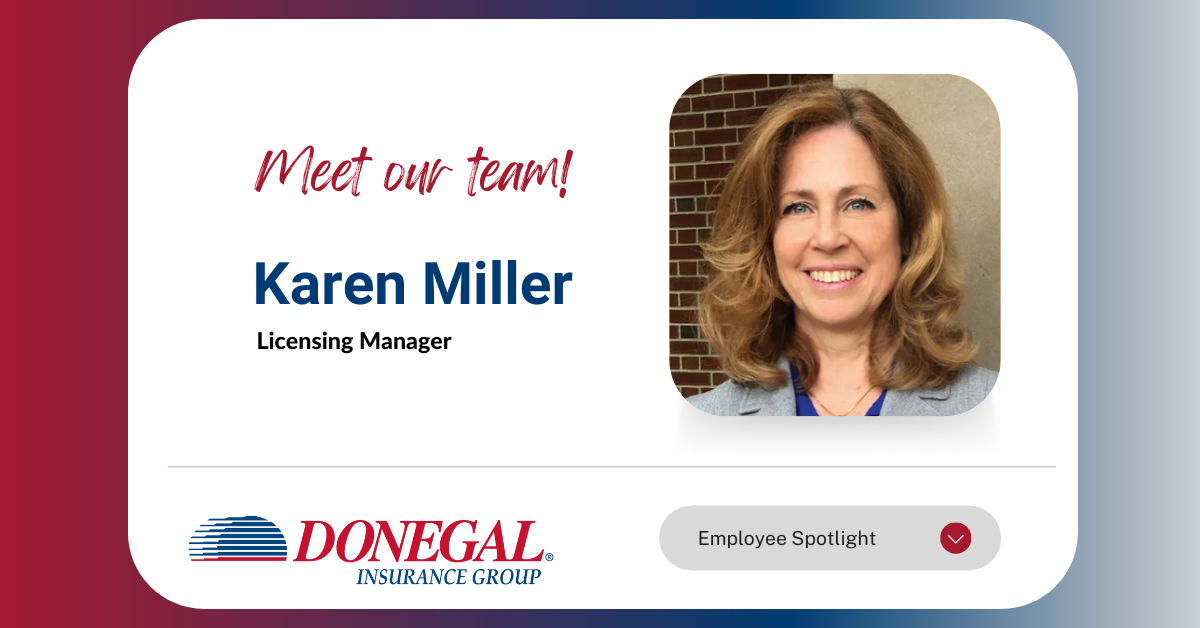 Donegal® celebrates Karen Miller, our Licensing Manager based in Donegal's Marietta, Pa. Home Office!
We asked Karen a few questions to help you get to know her better:
Years of service with Donegal:

 

9 Years  
How would you describe your job at Donegal? 

In my current role, I get to work with a talented team to ensure that
we maintain our agency information for integration with reporting, compensation, and downstream systems – and to ensure compliance with state licensing requirements for our agency and producer representatives.
What do you love most about the work that you do? 

Number 1 is working with people, internal and external, because you engage and learn different perspectives. Working with the CRM replacement team (Salesforce) has been a lot of fun because it is challenging and you see a positive outcome when you can improve the process and provide better information.
Why is Central Pennsylvania such a great place to be?  

The Home Office campus is a beautiful place to work and it's nice to have access to so many people and departments. We also get the privilege of working with all the regions, so we can channel what's going on around the country.
Where is your favorite place to travel?  

My answer is going to sound different because I like both the beach and the mountains, and they are totally opposite. Deep Creek, Maryland is probably one of my favorites because there are so many things to do in a laid back atmosphere with my family – hiking, golfing, kayaking, skiing, and just hanging out.
How do you enjoy spending your weekends?

 

I love being active in the outdoors – gardening, hiking or sitting poolside with friends and a glass of wine.
If you could have dinner with any famous person, past or present, who would you choose?


Tony Dungy. When we lived in Florida, he coached the Bucs for a few years. An intelligent and humble man, he was always cool under pressure and very active in the community, quietly helping others. While not famous, there is one other person that I would like to have dinner with and that is my dad. He always gave the best advice and I would like to let him know how appreciated he was and how many people he impacted.
Ask me about: 

The water! I enjoy water sports – swimming, snorkeling, and water surfing. When I was 8 years old, I swam in the Junior Olympics (just a few years ago ;)) and everything seemed so big – big pool, tall starting blocks. It is all a matter of perspective and it was a great experience.
What's the best piece of advice you've ever received? 

Treat others with respect and don't be afraid to fail. I still don't like failing, but who does? There is that saying… if at first you don't succeed, try, try again. It's important not to give up!
What Karen's Donegal colleagues are saying:

"What can you say about Karen Miller, other than that she is an absolute delight to work with. She is very knowledgeable regarding the insurance industry and its idiosyncrasies, and she is always willing to go the extra mile with a smile on her face." 
"Karen wears many hats within the Marketing organization. She manages the licensing team, works with the legal and Internal audit departments to manage state compliance audits and recently served as the business lead on the Salesforce project.  Her vast industry experience, attention to detail and strong interpersonal skills enable her to successfully work with Marketing's  internal and external customers and clients."

Thanks for all that you do, Karen!