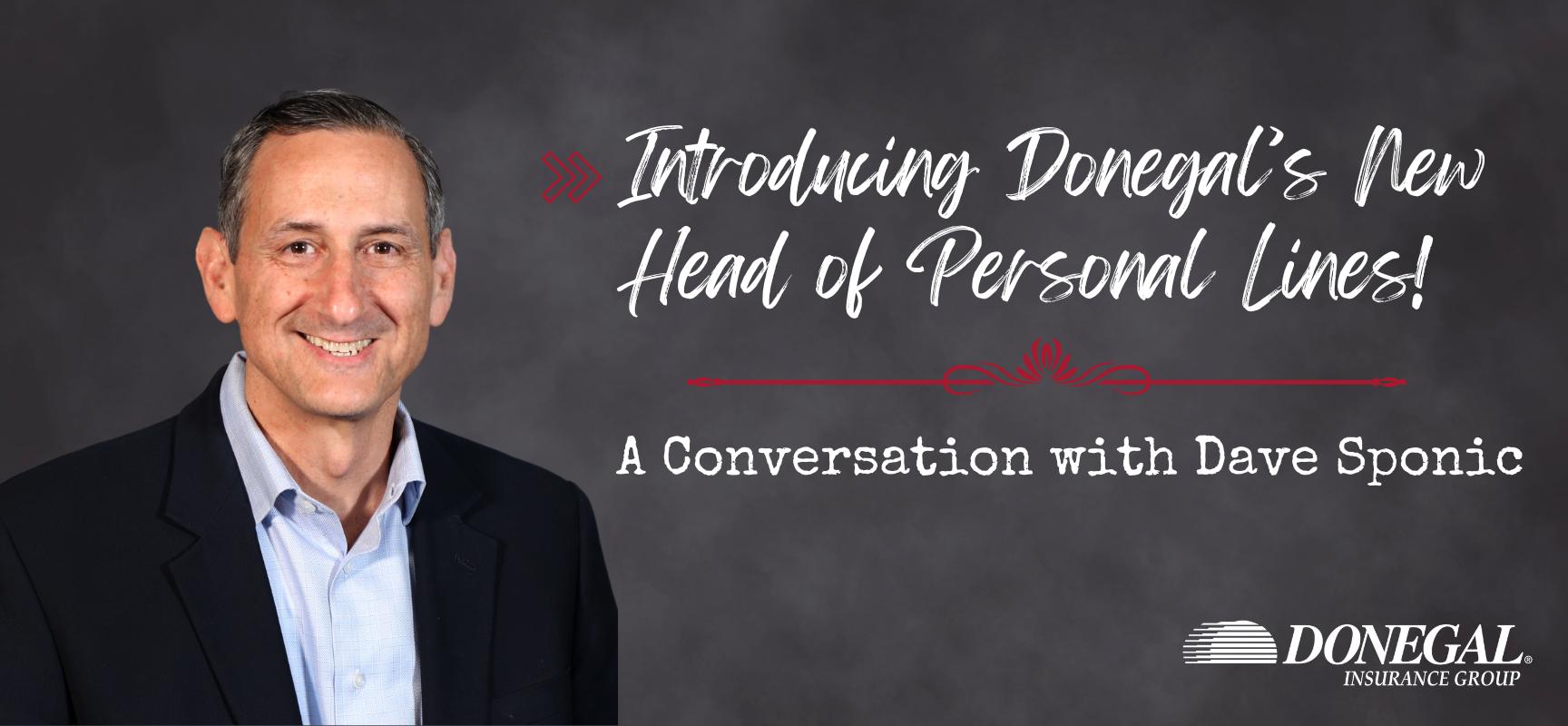 By Becca Gregg Sansom, Corporate Communications Specialist
Here at Donegal®, we're on a future-forward mission, keeping an eye on the pulse of tomorrow while continuing to embrace the legacy of our past.
A critical piece of our success is through Personal Lines, and as we move into the next phase of its evolution, we're excited to introduce you to the leader who will carry Donegal's Personal Lines operation into the ever-changing
tomorrow. 
David W. Sponic, CPCU, CIC, took the helm as Senior Vice President of Personal Lines earlier this month, succeeding longtime SVP of Personal Lines Jeff Jacobsen, who will transition into an advisory role leading up to his retirement in early 2023.
Previously, Dave led Donegal's Personal Lines Marietta Marketing and Home Office Underwriting Operations. A Penn State graduate, he began his career with Donegal in 1990 as a Personal Lines Underwriter and in the decades since, has played a critical leadership role in nearly every strategic Personal Lines initiative. Among them: The recent introduction of a new suite of Personal Lines products, a new agency portal and a new policy administration system – all of which were critical investments for the future success of Personal Lines.
"As we move into the future, no one knows more about the detailed operations of Personal Lines at Donegal than Dave, who has played a critical role in designing, building and leading just about every function over the last three decades. Dave is well respected by our internal team, and externally, amongst peers and agents. His robust industry knowledge, leadership and strategic perspective will position Donegal well to navigate the highly competitive and ever-changing Personal Insurance marketplace."
Recently, we had a conversation with Dave spanning his new role, the importance of the independent agency system and what the future of Personal Lines looks like at Donegal.
Congratulations on your new role, Dave! How have your career experiences to date laid the foundation for this new challenge and next chapter? 
"I honestly believe that every job I have had both before Donegal and while at Donegal has helped prepare me for this new role. I was very fortunate that Jeff Jacobsen gave me an opportunity to get into a managerial role very early in my career at Donegal. Since that initial assignment, I have managed virtually every aspect of Personal Lines, which really gives me a good understanding of the challenges that the Personal Lines team faces on a day to day basis. My goal in every one of these roles was to make the most of every opportunity, and when presented with a challenging situation, I always tried to find a way to make lemonade out of the lemons."
How would you describe the scope of your new role?
"The scope of my role is similar to the role of my predecessor, but I think what is different is how the evolving culture at Donegal will allow me to carry out that role. As we move more towards a culture of ownership and accountability, it gives me more confidence that I can truly make a difference in the future direction and results of Donegal Personal Lines."
What truly gets you going in the morning? What makes you excited about your job and/or your team?
"Continuous improvement really motivates me. I really get excited when our team comes up with ideas and we can partner with other departments that move the dial in terms of our policyholders and agency experiences.  Oh, and coffee of course."
How have you seen Donegal, and Personal Lines, evolve in your time here?
"One of the amazing things about working at the same place for over 30 years is seeing the evolution. Technology and the availability of data and information have truly changed the way Personal Lines is underwritten. Donegal has always had the reputation of being a strong "underwriting company" and that continues to be a significant part of our identity. But with technology advances and the ability to gather and analyze huge amounts of internal and third party data, we are in a much better position to price our products to profitably write a much broader segment of the market. Risks that we may have simply avoided in the past, can now be underwritten making Donegal available to more and more customers."
What changes can agents anticipate to Donegal's Personal Lines operation under your leadership? 
"I am a firm believer in empowering my employees.  My beliefs align very well with Donegal's efforts to improve our culture in that many of our employees have expressed a desire to have more decision-making ability in their various roles. This is a great opportunity for our team to really step up and place their individual mark on the company's future. With that new ownership comes increased accountability for making sure we are all doing our part to move the team forward. We have a lot of hard work ahead of us, but I am very excited about everything our team can accomplish if we work together."
Why is the independent agency system so important?
"The Independent Agent can be the difference between financial security and financial ruin for a consumer. The nature of insurance products is such that your choices really do matter and not all insurance products are the same. I have found most people just simply don't understand insurance and the implications of their choices until often times it is too late. An independent agent has a tremendous responsibility to truly understand the exposures that the customer has and then to work with the customer to protect them for their unique exposures. Going online and buying insurance coverage is a little bit like going to a doctor and asking for a treatment before you undergo a diagnosis. An independent agent is in the best position to understand a consumer's unique exposures and fill those needs through various product offerings from Donegal and with other companies when Donegal's products might not be the best fit for that particular consumer."
What are you most excited about regarding the future of Personal Lines at Donegal?
"Personal Lines in 2022 is akin to the caterpillar going through its last days just prior to becoming a butterfly. The last five years have been challenging for Personal Lines. We went through a difficult process of profit improvement where we had to significantly reshape our Personal Lines book of business. We followed that with two years of hard work on system modernization and the development and rolling out of our new products. We are now seeing the benefits of all of that hard work as we see the positive results of the new products in the market place. We are on track to show positive growth in Personal Lines in 2022, and I am so proud to be part of this effort."