Celebrating Donegal's $10 Million Agencies: Pratt Insurance
If Howell Wallace could sum up the reason for Pratt Insurance's success in a word, it would be "service."
"In a digital age, we're an old-fashioned agency," Howell said of the Smyrna, Delaware based agency, which has provided peace of mind to its community since 1880. "Yes, we have all the computers in the world, but we still hand-hold our clients."
As Smyrna's oldest continuously operating business, Pratt provides coverage for not only Delaware, but across the whole of the Delmarva Peninsula and into Pennsylvania and New Jersey. Howell prides his agency on the personalized approach they give to clients. 
 It's that melting of continuity and small town  like culture that has cultivated Pratt's reputation as an agency that cares- about its team members, and about its clients. Howell is a proud U.S. Marine veteran and together with his wife, Margo, owns one of the premiere horse farms on the East Coast. He's served as the owner and Chief Executive
Officer of Pratt for 45 years. Of his nearly 40-member staff, half have been with Pratt for more than 20 years, including three of Howell's children.
"We have one family with three generations working here," Howell said. "The Mom of the family taught me all about insurance, and now she continues to work from home. Her daughter is now the Commercial Lines Underwriting Vice President, and her granddaughter is a CSR."
Keeping it in the family, Pratt's Donegal Business Relationship Manager, Steve Richards, is coincidentally Howell's wife's cousin. It's that familial relationship that would be the launching pad for Pratt's long relationship with Donegal nearly two decades ago.
"Steve said, I'd like to give you a contract with Donegal. He just bugged me to death about it and wouldn't leave me alone," Howell recalled with a laugh. "I finally said, Steve, if I give you $100,000, will you leave me alone?"
That was 20 years ago. By 2020, Pratt's relationship with Donegal had catapulted to $11.2 million in written premium and growing. A partnership, Howell said, that's evolved because of "the people involved," and what he refers to as "The Donegal Way."
"The Donegal Way is professionalism, thinking outside of the box and being willing to work with an agent who wants to work with them," he explained.
Howell recalled a meeting five years ago with senior management at Donegal's Home Office in Pennsylvania. Back then, Pratt was writing $7.5 to $8 million a year with Donegal.
"Pratt President Kevin Malloy and I took five large accounts with us which were outside of the box that Donegal would normally write. Working together, we were successful in writing these accounts," Howell said. "At that time, our goal was to become Donegal's first $10 million agency."
It was a goal Pratt achieved, growing to $9.6 million by the end of 2019, and ending 2020 at more than $11 million.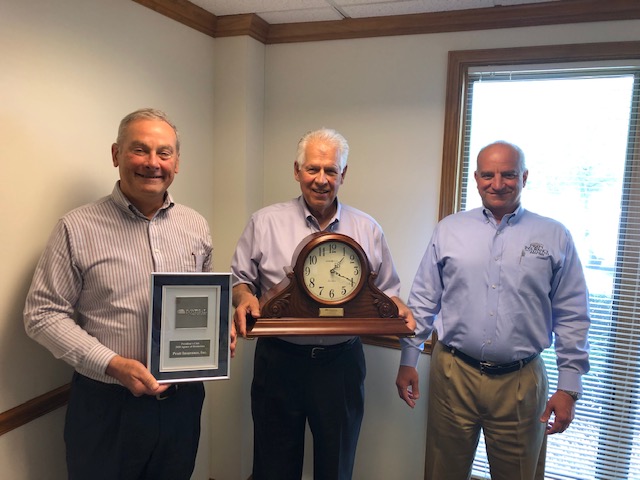 Today, Donegal remains the only carrier with which Pratt has hit the $10 million mark. Their previous record was $8 million. Howell credits Pratt's close relationship with Donegal as a key factor in their success, and praised the Donegal underwriters whom he's worked with over the years.
"I just think Donegal has held true to what they do," he said. "All of the underwriters have passed along their theories and practices to their successors. We've been able to develop a personal relationship with each of our
underwriters."
"Donegal," Howell added, "is a big small company. I can pick up the phone and call (President and CEO) Kevin Burke, and Kevin knows me. To us they are an integral part of our insurance family."
Like so many others, Howell is looking forward to the day when he can "once again invite our Donegal family to collaborate in person at our farm."
"After all," he added, "the sky's the limit." •