Honoring Amy Lied, Donegal Jefferson Award Winner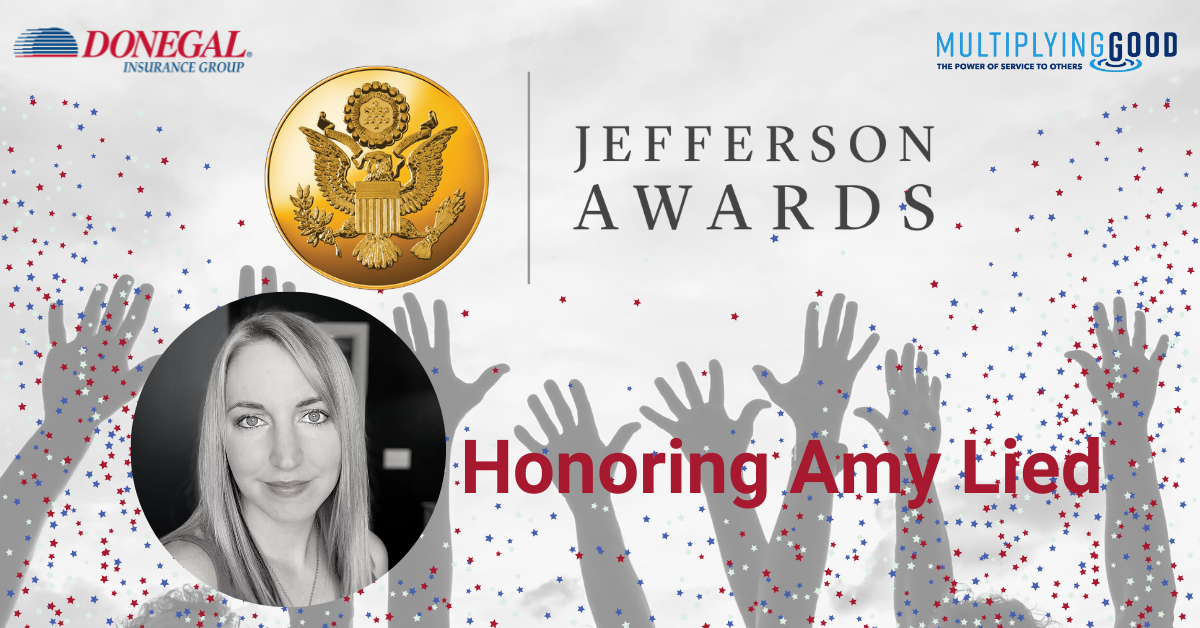 When Amy Lied and her husband, Steve, found out they were expecting their first child, they were thrilled. The road to becoming parents had been anything but easy for the Lancaster County, PA couple, who'd struggled with infertility for years prior.
"We did everything you could do before getting to in vitro," said Lied, a Bodily Injury Claims Representative at Donegal Insurance Group®.  "People who haven't been through it don't understand how isolating it can be."
After finally having success with treatments, Lied miscarried the baby nine weeks into her first pregnancy. Then, a glimmer of hope in 2016: Lied was pregnant again with her son, Asher. It was a normal, healthy pregnancy. Until one day, at 32 weeks pregnant, Lied woke up to find Asher not moving.
Asher Lied was stillborn on February 19, 2017. As they prepared to leave the hospital, Lied was given a teddy bear by her nurses, meant to provide a source of comfort as she left the hospital without her son. 
"They don't want you to leave empty-handed," she recalled. "So there I am, being wheeled out and holding this teddy bear."
Lied and her husband are not alone. One in eight families struggle with infertility. One in four experience pregnancy loss. And, one in 160 have a stillbirth.  "I think any loss parent, their biggest fear is that their child is going to be forgotten," Lied said. "I'm very outspoken about Asher. He'll always be my first born child and always a member of our family."
Donegal is proud to honor Lied, our 2021 Jefferson Award recipient, for her efforts in helping others experiencing similar loss.  
"Amy is an inspiration and advocate for those struggling with infertility and loss," wrote colleague Michele Christensen, a Donegal Claims Service Manager, in her nomination of Lied. "She has turned her heartbreaking experience into a voice of hope and comfort for those experiencing losses of their own."

'Good is being done in Asher's name'
Since losing Asher, the Lieds have devoted themselves to providing support for fellow families struggling with infertility, pregnancy loss and stillbirths. They've personally donated almost 200 weighted teddy bears, called Comfort Cubs, to their local hospital. It's money that Lied said would've been spent on raising Asher anyway.
"I was very compelled to make my son's short life mean something, and help others in the same situation," she said.
Though the Lucky Anchor Project– founded by Lied and her "Bereaved Bestie" that she met in a support group- an online community of support has emerged, taking grief and channeling it into something for the greater good.
Honoring both Asher and Lied's friend's son, Ezra, the Lucky Anchor's Etsy shop offers custom, personalized items for families experiencing loss, including cuff bracelets, ornaments, mugs and more. All proceeds are used to supply books for bereaved parents at their local hospital or donated to infant loss nonprofits in Central Pennsylvania and throughout the country.
Through virtual support groups, organized by the Lucky Anchor Project, Lied regularly connects with mothers from around the world.
 "We even have a mom in Amsterdam!" she said of Lucky Anchor's support group. "We talk openly about the ramifications of our losses. It's not just a finite thing- it infiltrates your entire life. It's been nice to flip the narrative and not make my son's life sad, but make it attached to joy."
"Good is being done in Asher's name," she added.
Losing a child at any age, if you haven't been through it, is not easy to understand, Lied said. "My Grandmother had a stillborn in the 1950s, and it was something that wasn't discussed."
And while the narrative is finally beginning to change, Lied pointed out, infertility, miscarriage and infant loss are still very much taboo subjects.

'The weight is still there'
Today, Lied and her husband are the parents of twin 3-year-old girls. Through the Covid-19 pandemic, she's adopted a new routine to unwind from the day each night. Late at night after the girls have gone to bed, Lied crochets while catching up on TV.
"I can make an octopus in two nights," she said. "Instead of snacking, I crochet. It keeps my hands busy." Her crocheted items are donated to a NICU nonprofit, and available for sponsorship in Lucky Anchor's Etsy shop.
Lied recalled a recent conversation with her father about Asher.
The Lied Family- Amy, Steve and daughters Harper Ray and Scarlett Asher- are using the loss of their son, Asher Ray, to provide support for others experiencing loss. 

"So often, our children are tied to loss and sadness because of how their life ended," she said. "But for us, they're tied to happiness. It's wonderful to be able to honor other people's children and help others who share this pain."
In the wake of Asher's death, one quote has stuck with her and proven true.
"The grief doesn't ever go away. You just get better at handling it," Lied said. "Your muscles get stronger and able to handle the weight better. But the weight is still there."
She offered a simple but meaningful piece of advice to those who have never experienced such a loss.
"Never be afraid to bring up someone's child," Lied said. "Say you're thinking of them. It goes a long way." …
About The Jefferson Awards
Donegal Insurance Group is proud to join Multiplying Good in honoring individuals making meaningful contributions to our community, and to sponsor FOX43's Jefferson Awards, which puts the spotlight on the unsung heroes in our everyday lives.
To recognize appreciation for each winner, Donegal will make a donation to the non-profit of their choice.