Road Tripping With Your Pet? Read These 5 Tips First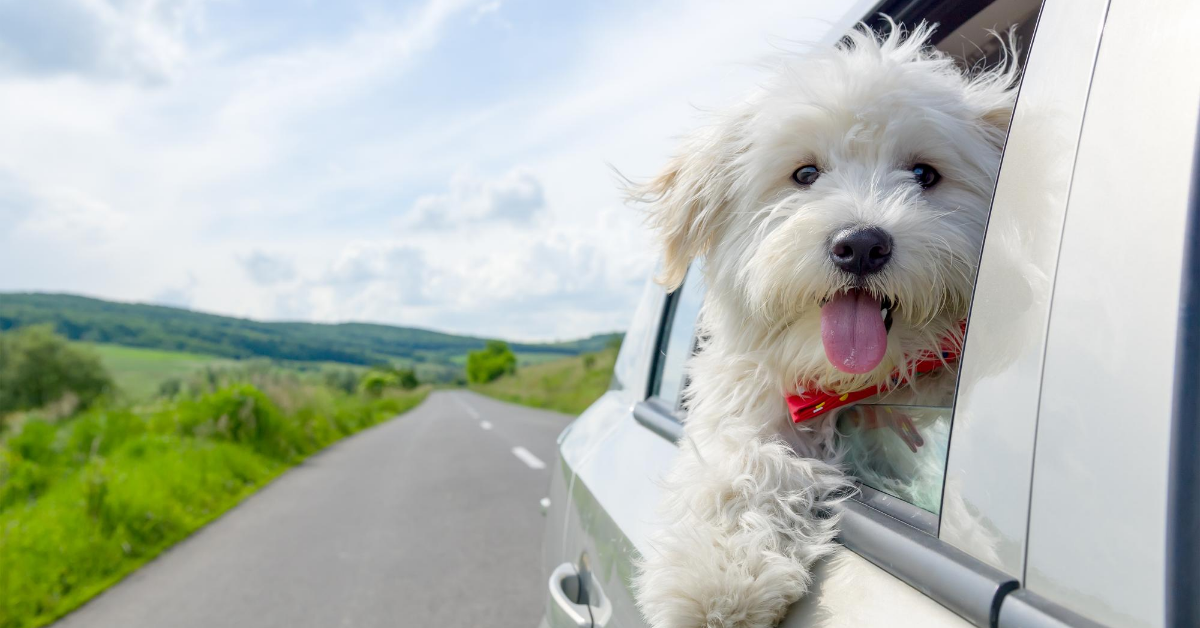 Good tunes pouring through the speakers. Open road ahead. And your best friend.
What could be better than including your furry friend in yourtravel plans? Nearly six in 10 dog owners have reported traveling in their car with their pup at least once a month over the past year, a survey by AAA and Kurgo Pet Products found. With that, a whopping 65% of dog owners have admitted to engaging in at least one potentially distracting activity while driving with their dog. Taking your eyes off of the road for just two seconds doubles your risk of being in a crash, according to the AAA Foundation for Traffic Safety.
Road tripping with your pet – whether via choice or necessity – can be the best of times and often, the most challenging. With proper preparation though, you can ensure that your trip is a safe and comfortable one for all.
Familiarize your pet with the car
Cars and trucks whizzing by. Strange sounds. And worst of all, motion sickness. Moving vehicles can be a scary place for pets who are not used to them. Embarking on a long road trip? Get your pet used to the car by taking them on car rides of increasing length in the weeks leading up to your trip.
Pack the necessities- and a toy or two

Prepare (and remember to pack!) a pet-friendly kit for the road. Include food to last the duration of the trip, as well as their favorite bowl, plenty of water, a water bowl or pet water bottle, leash, medication and first-aid supplies, any travel documents, waste bags and any necessary grooming supplies. Don't forget to bring your pet's favorite toy or blanket. This sense of familiarity will provide a dose of comfort when life on the road gets stressful – or when boredom strikes.
Belt up!
According to the above survey, just 16 percent of pet owners admit to using a restraint system to protect their pet in the car. You wouldn't travel without a seat belt, so why would you let your pet? Having an unrestrained pet in your vehicle poses not only a distraction to the driver, but a danger to your pet. In the event of an accident, unrestrained pets can quickly become projectiles in a motor vehicle. Keep your pet safe and secure with a seat belt specifically designed for them, or a well-ventilated crate or carrier. The crate should be large enough for your pet to stand, sit, lie down and turn around in. Keep in mind, a vehicle's airbag can prove deadly to a pet. Restraining them in the backseat is the safest bet for all.
Never, under any circumstances, leave your pet alone in a parked vehicle
Even with the windows open, cars can become very hot very quickly, risking heat stroke for your pet. A quick primer in how fast the mercury can rise: At just 70 degrees Fahrenheit, your car can heat up to 89 degrees in 10 minutes and 104 degrees in 30 minutes. At 80 degrees Fahrenheit, your car can heat up to 99 degrees in 10 minutes and 114 degrees in 30 minutes. And at 95 degrees Fahrenheit, your car can heat up to 114 degrees in 10 minutes and 129 degrees in 30 minutes. On the flip side, in cold weather, a car can act as a refrigerator, holding in the cold and causing your pet to freeze to death.
Keep ID and documents on hand 
It's crucial that your pet is microchipped for identification, and wears a collar and identification tags during trips. In case of an accident, it is important to be able to identify pets in case they run off. If taking your pet across state lines or the border, be sure to research in advance the requirements of your destination. Will your pet need a rabies vaccination certificate? A certificate of health from their veterinarian? A pet passport? Allow enough time to obtain any documents or schedule any vet visits that may be required.
Now that you're prepared, you can safely ask the six golden words your pet is waiting to hear… "Want to go for a ride?"