Meet Michelle Layne: Donegal Jefferson Award Winner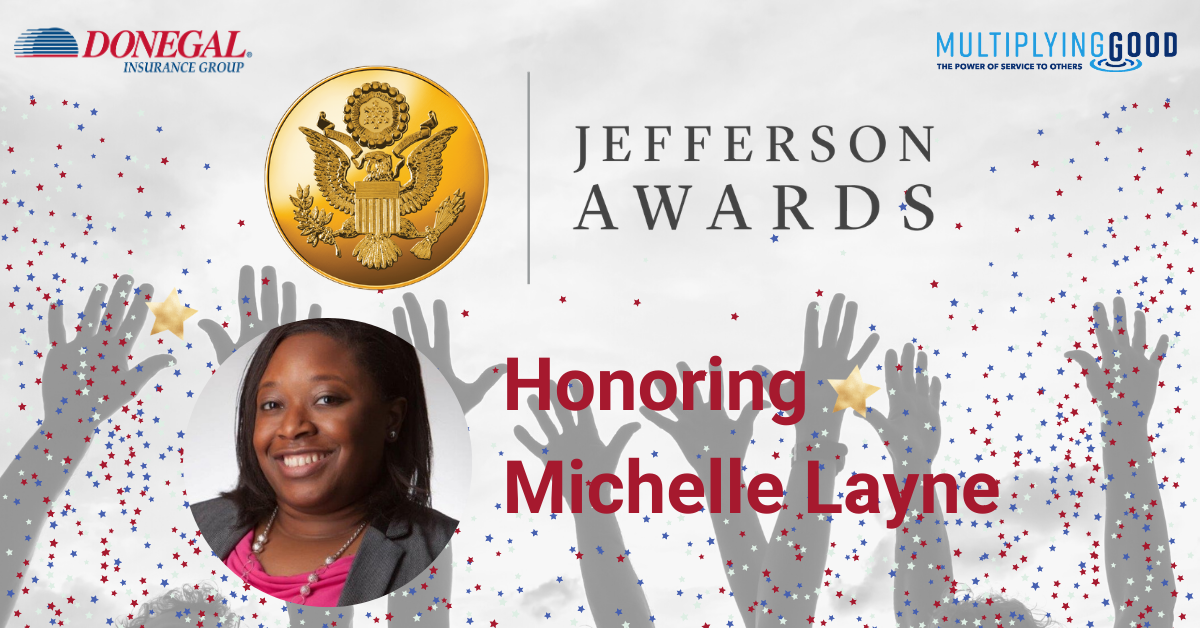 For Michelle Layne, two pillars stand as a guide to all that she does.
"I love my family. I love God," said Layne, a commercial underwriter in Donegal's Glen Allen, Va. office. "And I try to show that positivity and light in everything that I do."
The face of St. Jude Children's Research Hospital's efforts in Richmond, Layne first became involved with the pediatric cancer-fighting non-profit four years ago through her college sorority, Delta Sigma Theta. "We're a community service-based organization, and my involvement just grew," she said. "It touches my heart to see the kids, to see what they're going through at the hospital and how appreciative they are of everything"
In the years since getting involved with St. Jude's, Layne has continued to move up the ranks in her volunteer roles and responsibilities. These days, she volunteers with the Virginia Beach chapter of St. Jude's, organizing and serving as the spokesperson for all Richmond-based activities, including fundraising initiatives and an annual walk/run event.
"We all go to work full time. And then after work, I have planning meetings and I'm helping to organize events," Layne said of her busy schedule. "But I truly know that the funds we raise are going to help prevent another child from getting cancer, and also treating those who have cancer and are beating it."
Of Layne's dedication, colleague Corey Hill pointed out, "It should be noted that Michelle takes her personal PTO to work for St. Jude's during all of these activities that take place during Donegal's normal business hours."
Beyond her involvement with St. Jude's, Hill praised Layne for the positive impact she has on her Donegal team members. "Michelle and I just met last year, when I was hired in the commercial underwriting department," she wrote in nominating Layne for a Jefferson Award. "The minute she got the email about me coming onboard, she immediately picked up the phone and called to introduce herself. She was very gracious and offered to assist me with anything that I needed help with. And throughout the year, I noticed that Michelle's willingness to help did not end with her coworkers."
Layne, in turn, said that she gets back just as much from her Donegal colleagues.
"We feed off of each other's energy," she said. "I'd rather shed my light than be a dark cloud. I'd rather have positivity beaming from me than negativity. To see someone smile and help them in their time of need… if I can go that extra mile, I'm happy."
Do you have a co-worker who deserves to be honored? Nominations are open for Donegal's next round of Jefferson Award winners!
Donegal Insurance Group is proud to join
Multiplying Good
in honoring individuals making meaningful contributions to our community, and to sponsor CBS21's Jefferson Awards, which puts the spotlight on the unsung heroes in our everyday lives.
Through this partnership with Multiplying Good, Donegal is honoring a total of six team members with Jefferson Awards through early 2021 – one of whom will be selected to represent the company at the annual Jefferson Awards ceremony in Washington D.C. In addition to the winners announced above, three additional award recipients have yet to be chosen. To recognize our appreciation for each winner, Donegal will make a donation to the non-profit of their choice.
A digital program from the national Jefferson Awards event, including links to video clips from winners, can be viewed here.