Meet Jason Barnes: Donegal Jefferson Award Winner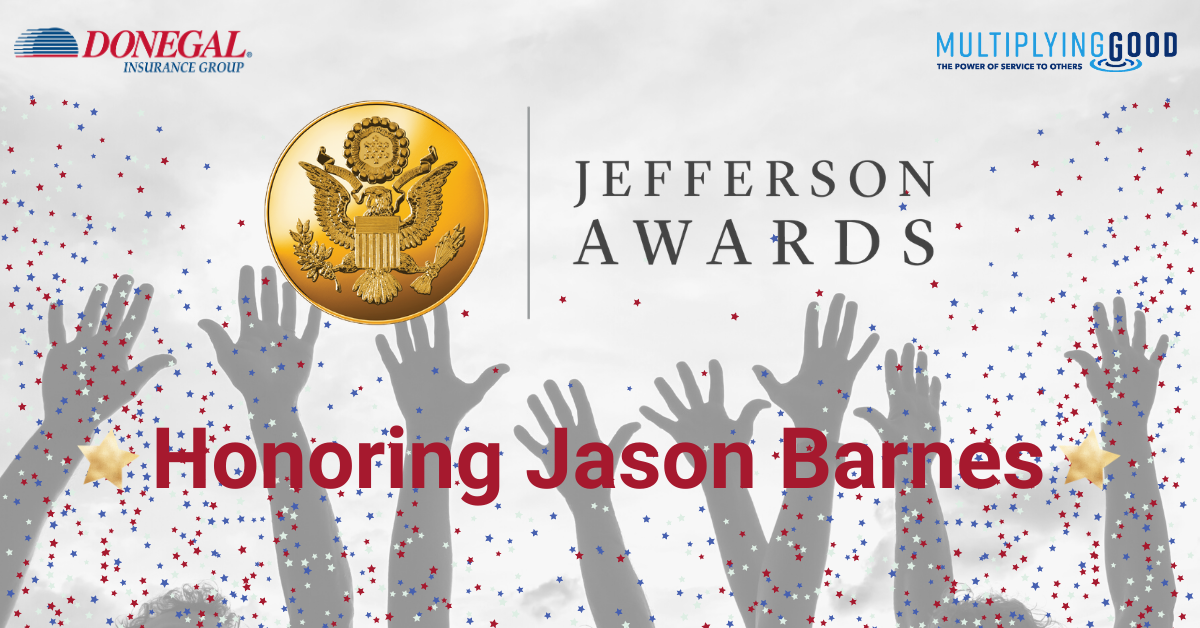 When COVID-19 tightened its grip on New Mexico this spring, first responders in Albuquerque, like their counterparts across much of the country, felt the strain. That's when Jason Barnes and the Mountain States Insurance Group team sprang into action.
A production underwriter in the Albuquerque office, Barnes partnered with one of Mountain States' largest local policyholders, a chain of pizza restaurants, to deliver lunch to two different shifts of firefighters at 25 fire stations across the city, in addition to police stations, the city's main EMS provider and 911 dispatchers.
"There was an opportunity there, and it just made sense," said Barnes, who is quick to deflect credit onto other team members and the partnering policyholder. "I try to do what I can. I thought it was a good idea to help some people out who were struggling."
On top of lunches to first responders, Barnes and his team provided lunch to the children's oncology staff at The University of New Mexico Hospital in May; as well as 150 gift cards to New Mexico Children, Youth & Families Department; and made a donation to the Serving New Mexico Fund, which provides financial assistance to New Mexico waitstaff out of work due to the pandemic.
"Like a true humanitarian, Jason gives anonymously," colleague Mary Mascarenas said. "He is a good man who will give you anything he has to offer, which is anything from money to his time. He is open to helping and never asks for anything in return. He knows that he is blessed in his life and he wants to pay it forward whenever possible."
At present, Mascarenas pointed out, Barnes and his wife are collecting food for the Storehouse, a community resource working to fight hunger in New Mexico, which ranks among the worst states in the nation for hunger in both children and adults.
Outside of work, Barnes and his wife are working on a different mission: certifying their Standard Poodle, Loki, as a therapy dog. "She'll go to school sometimes with my wife's mom, who is a teacher," he said. "It's part of her training."
"Jason gives without expectations," colleague Dave Sutliff said. "Many folks are open to a one-time challenge or opportunity. They volunteer, but in their mind, they are secretly hoping for some type of praise down the line. Jason is so true to himself that he gives because he knows it's the right thing to do."
"True, selfless giving," Sutliff added of Barnes. "And that's what makes him so special."
Do you have a co-worker who deserves to be honored? Nominations are open for Donegal's next round of Jefferson Award winners!
Donegal Insurance Group is proud to join
Multiplying Good
in honoring individuals making meaningful contributions to our community, and to sponsor CBS21's Jefferson Awards, which puts the spotlight on the unsung heroes in our everyday lives.
Through this partnership with Multiplying Good, Donegal is honoring a total of six team members with Jefferson Awards through early 2021 – one of whom will be selected to represent the company at the annual Jefferson Awards ceremony in Washington D.C. In addition to the winners announced above, three additional award recipients have yet to be chosen. To recognize our appreciation for each winner, Donegal will make a donation to the non-profit of their choice.
A digital program from the national Jefferson Awards event, including links to video clips from winners, can be viewed here.